Well with the need for a test mule for the 42MM gear motors, I decided to dig this old beast out from the rusting steel pile and resurrect it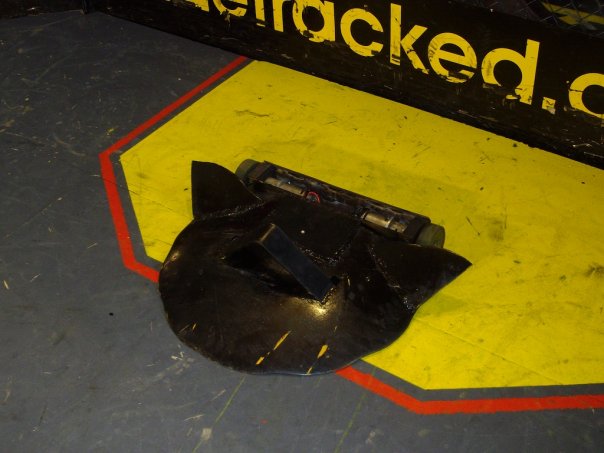 Having an indestructible shell that survived hard assed spinners like Jolt and Rapture with nothing more then paint scratches, coupled with a wedge that is so low it shaves mdf like a planer, it was really only ever let down by the drive system. So with these new gearmotors showing great promise, maybe this time we will see the full potential of Schmackhed.
The new drive will be some BotBitz 20V 42MM 14:1 gear motors on 22.2v (6S LiPol) with Colson 4″ x 2″ wheels.
I'm moving back to a tubular drive pod again, so I decided to give the motors the best chance of survival and add some support bearings at the face to help take the load.
Motors with the bearings fitted.
The hubs I mad for the wheels.
The 4X2″ colson wheels  being fitted with their hubs
The tube cut out of some scrap and the motors temporarily pushed in to work out the wheel base.
A quick dummy fit to see how it all lines up.
This tab will be welded to the wedge and will allow the motor wires to exit the pod.
The pod was then welded on.
Looking more like a robot again
I then started to mess around with ideas for fitting the electronics in differently, but I'm not sure if it will work the way I want.
I ended up going back to the old tray and rearranged the components to all fit.
The motor wires snake in along the back near the batteries.
The tab over handing from the drive pod actually locks the rear of the electronics bay in.
Butt shot.
Next up, some paint
Trying to be fancy here.
Some masking tape to make some GT racing stripes
Lol, that turned out… ok.
Probably should have sprayed the red further around on the tube. Oh well.
All together and looking spiffy